Loss and Triumph – Lotte Kopecky ends emotional year on rainbows
Lotte Kopecky rarely reveals emotion, high or low, in public, but the tears that rolled down her cheeks after winning her third rainbow jersey at the Glasgow Worlds gave us all a taste, and perhaps some understanding, of just how difficult it has been her season and how much she had to overcome on her way to becoming the best female cyclist in the world.
"It was an amazing year but also a difficult year. I don't know what makes me push," said Kopecky, who paused for several moments between words and sentences as she wiped tears from her eyes and considered what to say to the press.
There was a sense of triumph, relief, loss and sadness all in one short but honest statement.
It is now widely known that Kopecky's older brother Seppe died suddenly and unexpectedly in March. He was 29 years old. He competed as a junior and then for seven years, and was an inspiration for Kopecky's highly successful career.
She would have been forgiven for taking time out of competition after her family's tragedy this spring, but she lined up at Nokere Koerse a few days later and tore through the peloton to take a solo victory. The SD Worx team asked the media and the public to respect her privacy and let her continue racing.
Everyone grieves in their own way.
"I was very strong. It seemed like we were riding together. I hope I managed to make my brother proud. The last few days have not been easy, but there is no point in letting my head hang and sitting at home on the sofa. I am someone who I need to be able to take my mind off things," Kopecky said after her brother's death.
She echoed similar sentiments in the post-race press conference following her road race win in Glasgow.
"It's hard to really answer that question. It's been a tough year, but I've also worked really hard. I mean, for years now, but this winter has been a really tough winter," he answered a reporter's question on the matter. .
"It can go either way; you can just stay home or you can just go out and get the job done. I chose the second one."
The shape of her life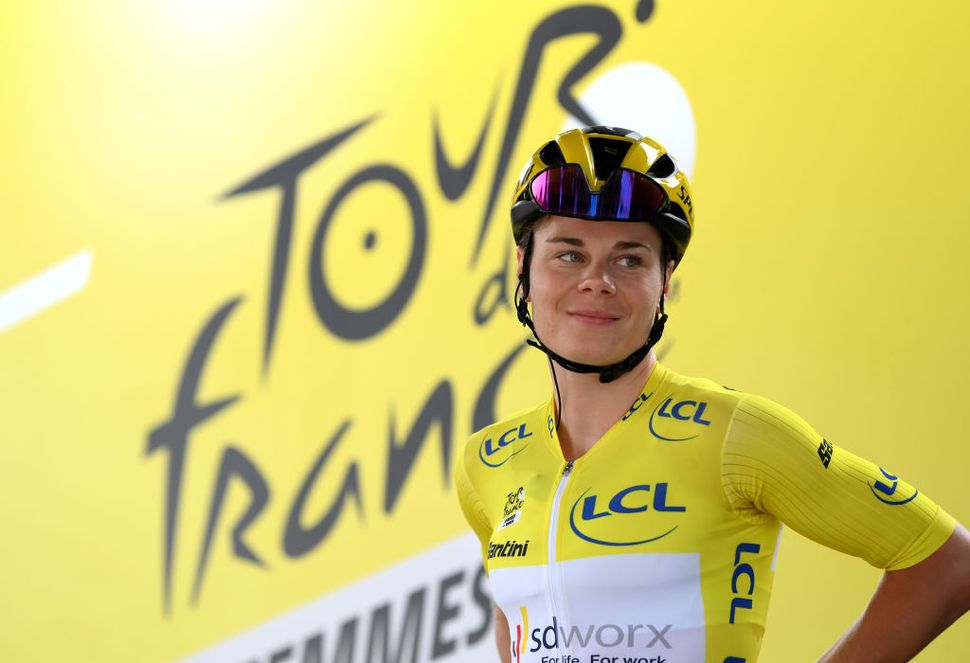 Since March, Kopecky has secured 11 road wins, including the Tour of Flanders, Lotte Thüringen Ladies Tour and double national road and time trial titles in Belgium.
But perhaps her most impressive block of races this year was at the Tour de France Femmes, where she won the opening stage, wore the yellow jersey for six days, climbed with the best at the top of the Col du Tourmalet and then stormed into third place in the time trial at Pau.
She closed out the eight-day race by winning the green points jersey and taking second overall behind her SD Worx team-mate Demi Vollering.
The performance stunned the cycling world and absolutely verified her ability as a cyclist on flat, hilly and mountainous terrain in time trials and added to her already proven world-class pedigree on the track.
She brought the form of her life to the first combined World Championships, winning three of the four world titles she sought in the Elimination Race, the Points Race, and then took a hard-fought solo victory in the road race. He also won a bronze medal at the Omnium.
"It really means a lot to me. It's a dream come true. I hope to enjoy it and ride those rainbows next year," Kopecky said, explaining how she's handled multi-discipline training and the major changes she's made to her. lifestyle that led to success.
"It's years of progress. I think. I train myself. I listen well to my body, how I feel, what kind of physical training I need. I think I've just found a very good balance between training and having fun on the bike," he said.
"The mental part where before it was always bike, bike, bike. But for the last couple of years, I've been saying, "I really want to be good on the bike, but I also want to feel good off the bike." ' I think that's something that's really helped me grow as a person."
"I'm stronger this year"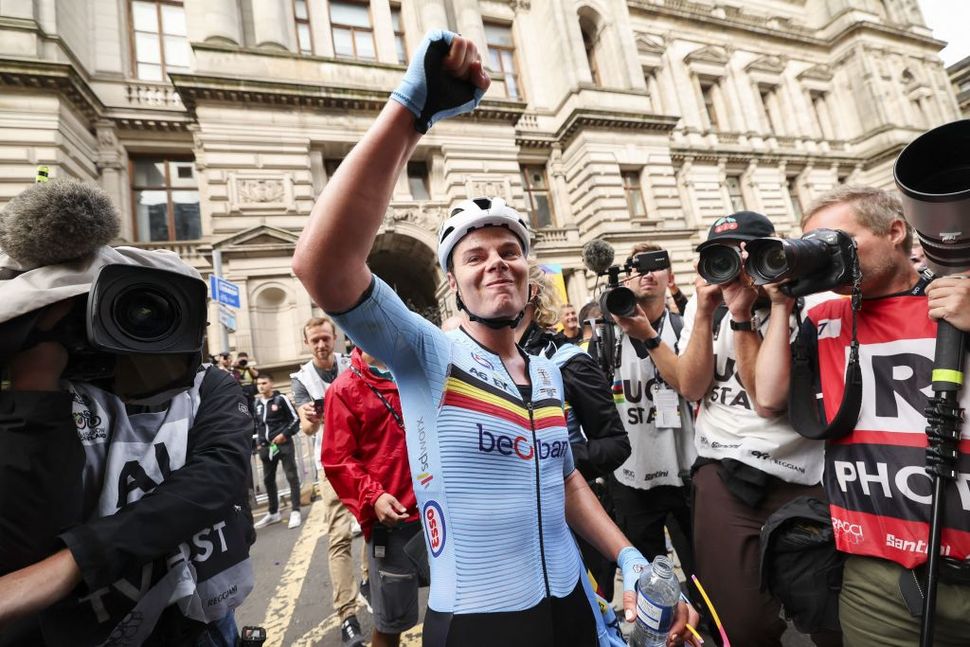 Starting the elite 154.1km women's race from Loch Lomond to Glasgow as the overwhelming favorite meant that once the selection was made, those of the chasers behind solo escapee Elise Chabbey (Switzerland) refused to cooperate with the Belgian.
Live TV footage of the race showed Kopecky's efforts to spark a chase went unanswered as Lizzie Deignan (Great Britain), Demi Vollering and Annemiek van Vleuten (Netherlands), Cecilie Uttrup Ludwig (Denmark), Christina Schweinberger (Austria) and Chablenbey's. Reusser did not answer.
As Kopecky's frustration grew, so did her attempts to break away from the chase in the closing laps to try and catch Chabbey. "I didn't understand how they were racing and I said, 'Just start driving and get there [Elise Chabbey] and then reboot," Kopecky said.
"While we were behind, we were riding second. And we all know what a good rider Chabbey is. Yeah, it was just annoying that when I was going, everyone could follow the attacks, but then they didn't accept it was quite annoying and disappointing."
Kopecky also understood that her opponents' tactics were in keeping with the territory of being the overwhelming favorite and thus the marked rider in the peloton.
"I knew I was the favorite for this fight. But then, yeah, I can't change anything about it. So I can start to get anxious and go on a downward spiral. It's just the way it is. It's not something that [has happened] the first time this year, and so the more you get into those situations, the more you get used to it," Kopecky said.
She only felt confident of victory after breaking away from Uttrup Ludwig on the Scott Street climb and then making the last sharp kick up Montrose Street alone with time to enjoy her victory as she crossed the line.
"It was quite painful because the race was also exhausting. Every time you had to give it your all on the steep climbs, and I wasn't sure. I had just finished the final climb, and I had 1.6 kilometers to go, and I was like, just stand up," he said.
Asked to compare the road race in Glasgow to last year's in Wollongong, where Van Vleuten won the peloton with a winning charge in the final kilometer that left Kopecky disappointed with the silver medal, she said she was not as strong last year and the result was based more in tactics.
"I wasn't as strong last year. Due to the circumstances I was able to compete for the title [in 2022]. Annemiek then went into the last kilometer and it was just a very smart move. We just hesitated and it was just our fault," Kopecky said.
"Today, I felt really good. And I also think I was one of the strongest riders in the race. I really feel that I have heard that, and not just because of the tactical development of the race."
The Kopecky effect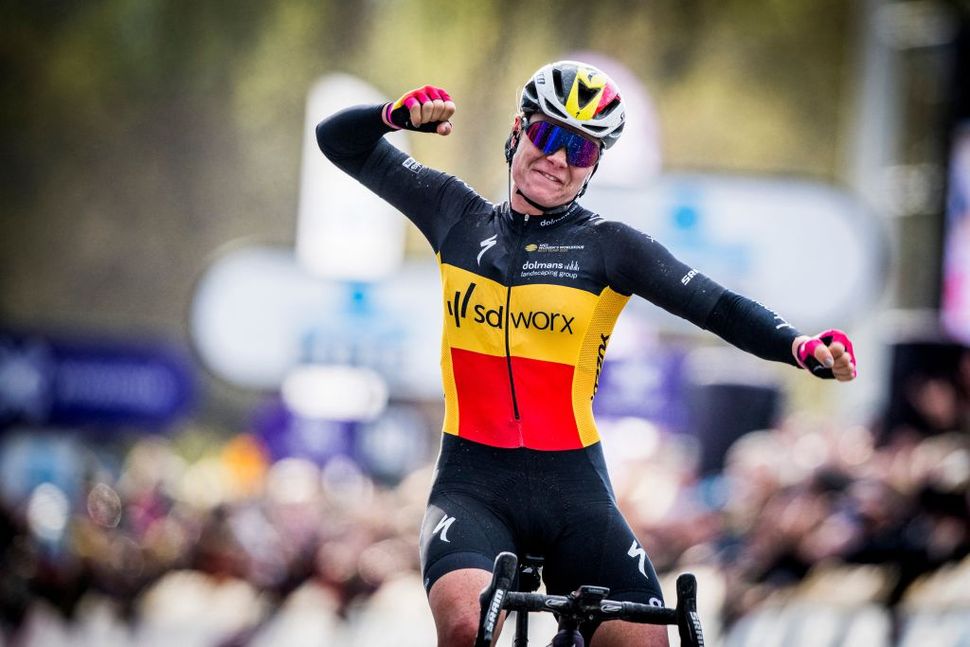 Kopecky became the first Belgian to win the elite road racing title since Nicole Vandenbroeck in 1973, and before that, Yvonne Reynders won the world titles in 1959, 1961, 1963 and 1966.
"Came across [Yvonne Reynders] sometimes, and she's a very nice lady," Kopecky said.
Kopecky's popularity throughout Belgium and the global cycling community has grown alongside her career in professional cycling, which has soared over the past four seasons.
Since joining the Women's WorldTour with Liv Racing in 2021 before moving to SD Worx in 2022 to 2024, she has become one of the strongest women in the peloton.
Her career highlights in this short time include but are not limited to two wins at the Tour of Flanders and wins at Omloop Het Nieuwsblad and Strade Bianche, stages at the Tour, Giro and Vuelta. She has also won overall titles at the Thüringen Ladies Tour and the Lotto Belgium Tour and finished second at the Tour de France Femmes.
She hopes her success will translate into the continued growth of women's cycling in Belgium. "We can see over the last year; we're making progress that our younger riders are getting stronger and stronger."
Her success over the last four seasons has already had a noticeable impact on the rise of young women, U17 (15-16 years) and U19 (17-18 years), registered for a license with the Vlaanderen cycling federation.
According to Anne-Laure Gheerardyn, Women's Cycling Coordinator at Cycling Vlaanderen, in April, the number of women who are 18 years or younger has increased by almost four times the amount since 2020, a total expected to increase again in 2023. She attributed this development, in part, in the Kopecky effect.
"We will not see the results of this [Worlds victory] so far in five years, but you can see some development. I just hope I can inspire a lot of girls with this and start dreaming," Kopecky said.
On a personal level, Kopecky said she has indeed noticed the rise of her fan base in Belgium, especially after winning the Tour of Flanders and with the introduction of the Tour de France last year.
Asked how she expects the crowds to be after returning home from Glasgow with three world titles, she said: "I can feel myself getting more and more popular in Belgium.
"But last year with the Tour de France, it was already a bit crazy. After this weekend, we'll see when I get home, I think I'll bar my door."
#Loss #Triumph #Lotte #Kopecky #ends #emotional #year #rainbows